Date:29 / Jun / 2023 ~ 30 / Jun / 2023
Venue:IDMR, Sichuan University, Chengdu, China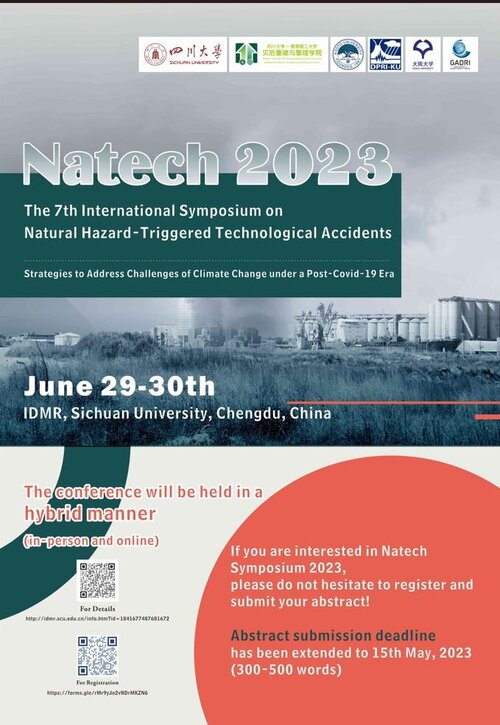 The 2023 Natech symposium is jointly organized by Sichuan University, Kyoto University, Osaka University and the Global Alliance of Disaster Research Institutes (GADRI), and is scheduled to be held in a hybrid manner (in-person and online) at the Institute for Disaster Management and Reconstruction (IDMR), Sichuan University, Chengdu, China from 29th to 30th June 2023.
This symposium aims to bring together scientists, administrative organizations, industries, and communities to exchange scientific knowledge in the field of Natech risk management through sharing experiences, good practices, innovative risk assessment methods, sustainable risk management strategies, and comprehensive risk reduction measures on Natech.
Important Dates:

| | |
| --- | --- |
| Deadline for abstract submission* | 15th May, 2023 |
| Notification of acceptance | 15th May, 2023 |
| Registration deadline | 30th May, 2023 |
| Agenda release | 10th June, 2023 |
| The 7th Natech Symposium | 29th,30th June, 2023 |
*The abstract should be in English (300-500 words)
A special issue is considered in the Journal of Loss Prevention in the Process Industries or the Journal of Integrated Disaster Risk Management depending on the number and quality of the manuscripts. Therefore, we encourage participants to submit full manuscripts.
IMPORTANT: For those who expect to participate in person and need our support for visa application, we strongly suggest you completing your registrations before 15th May, 2023. Please note that you will be responsible for your own travel expenses and all the other possible expenses in Chengdu. In case of unsuccessful visa applications/travels, you will be automatically accepted as online participants.
For further information, visit Natech Symposium 2023.

[ 19 May 2023 ]