Venue:Online, DPRI, Kyoto University, Japan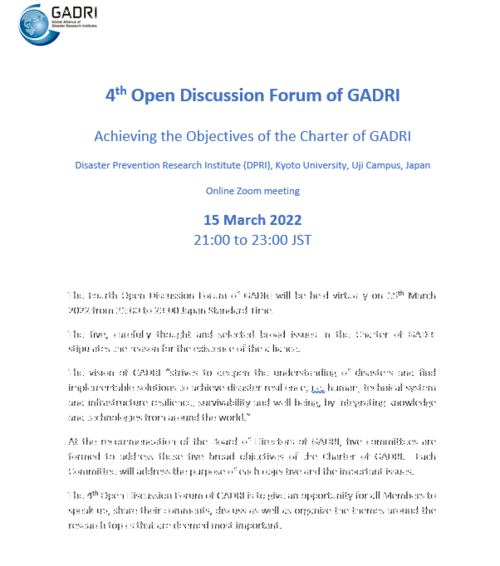 The Fourth Open Discussion Forum of GADRI will be held virtually on 15th March 2022 from 21:00 to 23:00 Japan Standard Time.
The five, carefully thought and selected broad issues in the Charter of GADRI stipulates the reason for the existence of the alliance. GADRI strives to deepen the understanding of disasters and find implementable solutions to achieve disaster resilience; i.e. human, technical system and infrastructure resilience, survivability and well-being, by integrating knowledge and technologies from around the world.
At the recommendation of the Board of Directors of GADRI, five committees are formed to address these five broad objectives of the Charter of GADRI. Each Committee will address the purpose of each objective and the important issues.
The 4th Open Discussion Forum of GADRI is to give an opportunity for all Members to speak-up, share their comments, discuss as well as organize the themes around the research topics that are deemed most important.
Click here for the programme.
[ 25 March 2022 ]