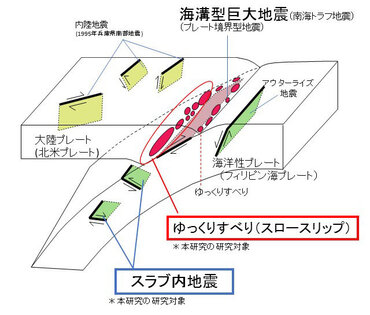 The research work carried out by Professor Takuo Shibutani et.al from 2013 to2021 in collaboration with the National Research and Development Agency Building Research Institute and other institutions and universities was published in the online scientific journal "Nature Communications" of the Nature Publishing Group, UK on 21 December 2021 (10 am UK time, 19:00 Japan time).
Research paper title: Effects of episodic slow slip-on seismicity and stress near a subduction-zone megathrust
It was clarified that the occurrence of slow slip * 1, which is said to be the preparation process for a huge subduction-zone earthquake, occurs in conjunction with an intra-slab earthquake (an earthquake that occurs inside a subducting oceanic plate) * 2.
For the first time in the world, verification of long-term and continuously recorded observation data of intra-slab earthquakes showed that the cause of the interlocking was due to the movement of water (crustal fluid) in the deep underground.
In addition, we have succeeded in capturing in more detail the peeling off of the coupling plates, which has been captured by geodetic methods, using the observation data of intra-slab earthquakes for the first time in the world.
(Glossary)
* 1 Slow slip: A slow crustal movement phenomenon called slow slip or slow earthquake, which lasts for several days to sometimes years. In the Japanese archipelago, it occurs at the plate boundary at the edge of a large subduction-zone earthquake. Compared to ordinary earthquakes, the stress and seismic motion released are significantly less, but it is thought to be responsible for the preparation process for subduction-zone earthquakes.
2 Intra-slab earthquake: An earthquake that occurs inside a subducting oceanic plate (slab). Occasionally, it may be a damaging earthquake, such as the 1994 M7.8 Kushiro-oki earthquake and the 2001 M7.0 Geiyo earthquake.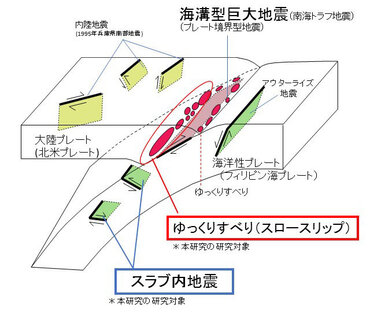 Please see the link below for details.
The following two documents are in Japanese:
[ 26 January 2022 ]