Date:07 / Sep / 2023 ~ 08 / Sep / 2023
Venue:Hybrid - Auditorium of Science Council of Japan; and via Youtube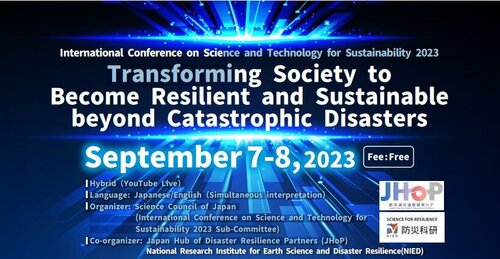 On the occasion of the 100th anniversary of the Great Kanto Earthquake, this conference will reflect on Japan's experiences and its accumulated knowledge over the past century, alongside the lessons learned by the experiences of other countries and regions affected by massive earthquakes, violent tsunamis, and giant cyclones. The conference goal is to share these valuable insights with the international community and transmit them efficaciously to the younger generation, with the aim of fostering international cooperation.
Date: Thursday, September 7 and Friday, September 8 2023
Organizer: Science Council of Japan
Language: English. Simultaneous interpretation services will be provided.
Venue: Hybrid - Auditorium of Science Council of Japan; and via Youtube

>>>For more information, click here.
>>>To Check PDF Programme, please click here(PDF Format:327KB)
>>>To check speakers' biographies and abstracts, please click here(PDF Format:1,318KB)



Online participation includes "zoom webinar participation" and "You Tube participation". 
If you choose "zoom webinar participation," you will need to register in advance at
https://us06web.zoom.us/webinar/register/WN_6VkPzvKqTWmt1OwpoXciGg#/registration
We look forward to seeing you there!
++++++++++++++++++++++++++++++++++++++++++++++++++
Dr.Toshio KOIKE, Executive Director
International Centre for 
Water Hazard and Risk Management (ICHARM)
Public Works Research Institute (PWRI)
1-6, Minamihara, Tsukuba, 305-8516, Japan
Phone +81-(0)29-879-1233,  Fax +81-(0)29-879-6709
E-mail: koike@icharm.org
[ 25 August 2023 ]