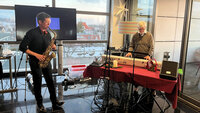 Browsing through the webpages of IASS, we discovered the following article on the retirement celebration party held for Prof. Ortwin Renn, Scientific Director, Institute for Advanced Sustainability Studies (IASS), Potsdam, Germany. He was a very much valued former member of the Board of Directors of GADRI who actively and dedicatedly contributed to GADRI activities during its initial years of formation. GADRI Secretariat was in constant touch with Prof. Ortwin. He is a very humble, and approachable person. He continues his humble services to GADRI even to date.
GADRI Secretariat and its members wish Prof. Ortwin Renn a very happy and a well-deserved retirement. Congratulations on your retirement Prof. Ortwin Renn.
Prof. Renn will be one of the keynote speakers at the forthcoming 6th Global Summit of GADRI: Towards GADRI Objectives of Achieving a Sustainable Disaster-Resilient World to be held at the Disaster Prevention Research Institute (DPRI), Kyoto University, Uji Campus, Kyoto, Japan from 15 to 17 March 2023.
GADRI is delighted to note that Prof. Ortwin Renn will maintain his affiliation with the IASS in his retirement.
The following article by Dr. Bianca Schröder, Press and Communications Officer, IASS, Potsdam, appeared on the IASS webpage on 19 December 2022. Bianca kindly permitted GADRI to use the excerpts from the article and shared the photos too.
"As 2022 draws to a close, the IASS bids farewell to Ortwin Renn, one of the Institute's two scientific directors, who will retire at the end of the year. At a joyful and moving celebration, staff at the IASS paid tribute to Renn's achievements as an outstanding researcher and leader.
Ortwin Renn joined the IASS in February 2016 after a long and successful career as a scientist and university lecturer.
Six of the Institute's research group leaders also lauded Renn's contribution to the IASS in their speeches. In their view, Ortwin Renn was "an enabler, a leader, and a very decent human being," "one of the few people in science who is incredibly successful and yet so nice," "an insanely great director," and "a gifted leader who allowed us great creative freedom and always helped us when we needed it." The team that led preparations for the evaluation described Renn as a "unshakable bastion of patience and resolve". He was "always responsive to everyone" and "proposed compromises without watering down the issues at stake".
For his part, Ortwin Renn had warm words of gratitude for the staff of the IASS. He expressed his sentiments by reciting the opening lines from Hermann Hesse's poem
"As every flower fades and as all youth
Departs, so life at every stage,
So every virtue, so our grasp of truth,
Blooms in its day and may not last forever."
(Translated by Richard and Clara Winston in: The Glass Bead Game) And while Renn may be retiring, he will continue to actively cooperate with the IASS - operating under its new name "Research Institute For Sustainability - Helmholtz Centre Potsdam" (RIFS).
Full article: https://www.rifs-potsdam.de/en/news/iass-bids-farewell-scientific-director-ortwin-renn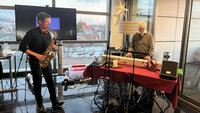 "Mark Lawrence *left) prepared his own version of Billy Joel's "Piano Man" which he sang and accompanied on the guitar and piano."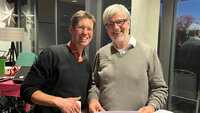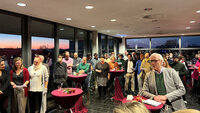 [ 26 December 2022 ]