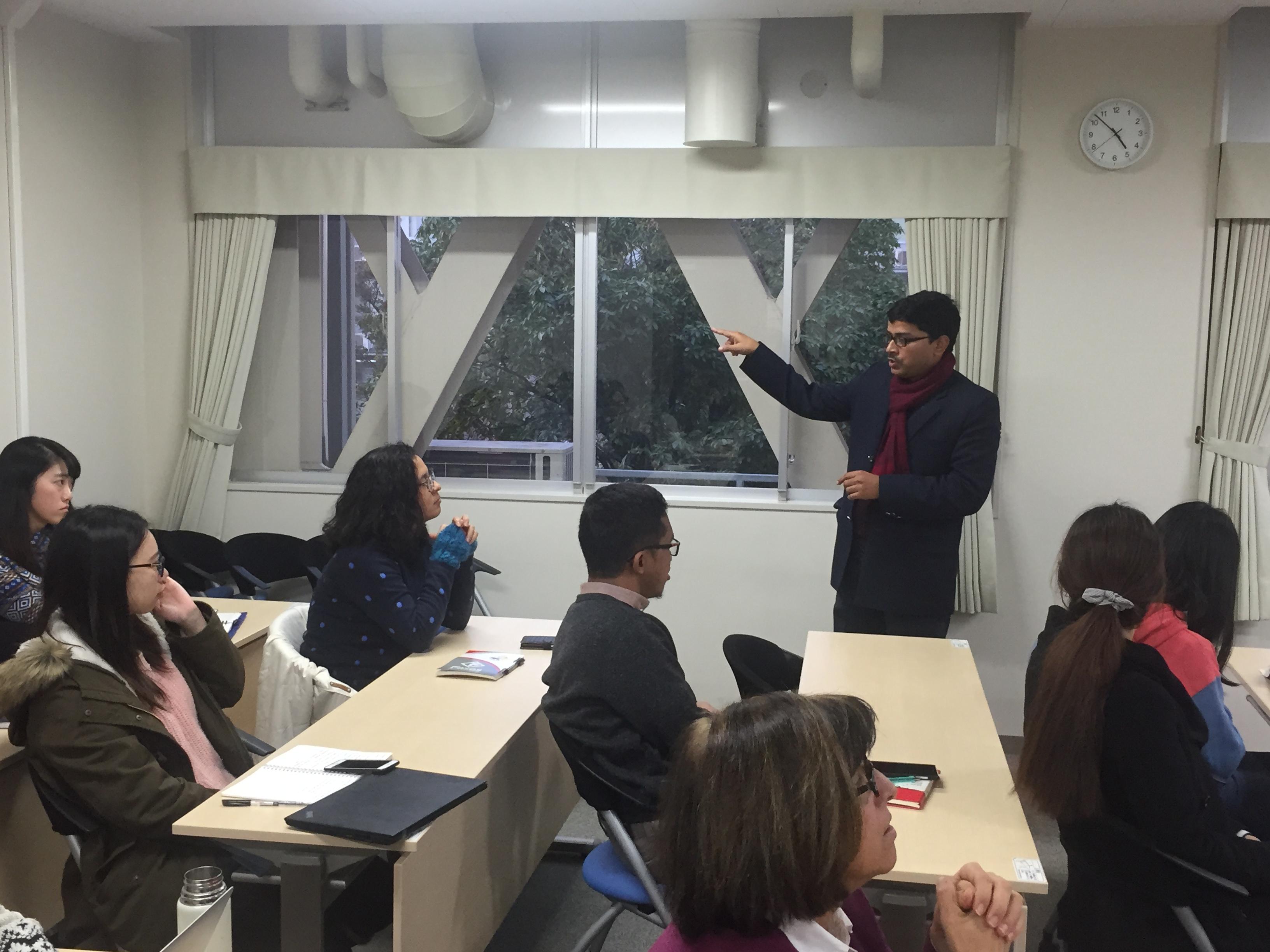 Dr. Kumar is answering a question from the audience

Lecture by Dr. Uttam Kumar Roy, Assistant Professor, Indian Institute of Technology (IIT), Roorkee, India delivered a lecture "Addressing Urban Risks in Planning of Satellite Towns of Mega Cities: Case of the Kolkata Metropolitan Area (KMA) at the Room S-207D, DPRI Main Building, Uji Campus, Kyoto University, Japan on 15 January 2018 from 15:30 to 17:00 hours.

Abstract:

Mega cities around the world represents the preferred destination of exploding population. Megacities expand in faster pace than other cities. It demands constant supply of developed land & infrastructures for new affordable housing and variety of employments. Often getting such land and infrastructure within existing urban extent or statutory/metropolitan areas becomes extremely difficult. The supply gap of such affordable & developed land leads to organic urban expansion and sprawls in the fringe areas beyond municipal boundary, if not controlled. To address this phenomenon, self-sufficient satellite town/s around large metropolis in the vicinity with well connectivity with the mother city has been considered as a viable strategy over the years. However, planning of such townships becomes very challenging if the land is available in the potential risk prone areas around the mega city. Kolkata (14 million), one of the large mega cities in the world is no exception to represent such huge demand of large scale spatial expansion. From sixties, two satellite townships were built in order to create planned infrastructure within metro area even though it was not sufficient to cater future need. In nineties, a market oriented approach to develop another set of new townships was taken and the townships were proposed in a very close vicinity but some of them were in a potentially risk prone zones. The presentation will explain the key strategies taken to address the potential risks including urban flooding in the planning of one of such satellite towns, now called as New Town Kolkata which has recently been identified by the union government as one of the Smart Cities under Smart City Mission. The presentation will cover the spatial and land use planning strategy to reduce urban risks, its implementation and key lessons learned.
[ 15 January 2018 ]