Date:18 / Dec / 2023 ~ 19 / Dec / 2023
Venue:University of Huddersfield, United Kingdom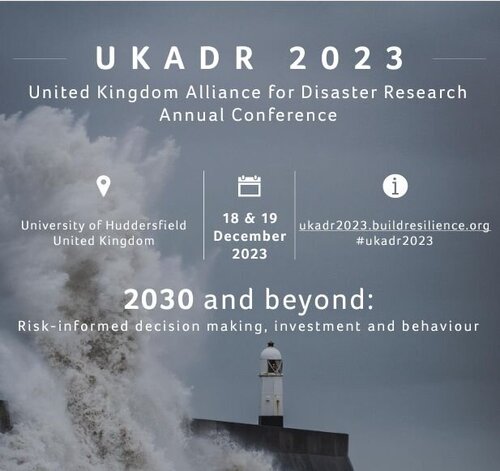 Join us at the UK Alliance for Disaster Research (UKADR) Annual Conference 2023, a unique opportunity for the UKADR community to gather and advance disaster research.
The conference theme, "2030 and beyond: Risk-informed decision making, investment, and behaviour," highlights the pressing need to address global challenges and manage disaster risks effectively.
The conference is inspired by the Mid-term Review of the Implementation of the Sendai Framework 2015-2030 (MTR SF), which emphasizes the importance of disaster risk management. While progress has been made since its implementation in 2015, our planet's increasing instability carries significant risks.
Be part of the discussions at the UKADR Annual Conference 2023 and contribute to shaping the future of risk-informed decision making, investment, and behaviour. Together, we can confront the challenges ahead and strive for a more resilient and sustainable world.
For further details, download the conference flyer.
[ 25 May 2023 ]